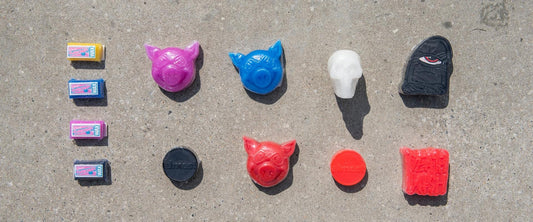 At the bottom of this page you can find more info about skateboards
Wat is skateboard wax?
Skateboard wax is gemaakt van parafine, (etherische) oliën en kleurstof. Dit alles wordt gesmolten, goed geroerd en in een vorm gegoten. Na afkoeling is de wax klaar voor gebruik.
Wax dient om beter te kunnen sliden en grinden op allerlei toestellen. Denk aan rails, ledges, curbs, copings,... alles waar je op wil en kan sliden of grinden, moet gewaxt worden. De wax gaat er voor zorgen dat je minder weerstand ondervindt tijdens je slide en grind tricks. Op die manier ga je veel minder blijven hangen en zal je je tricks makkelijker landen.
Skateboard wax kiezen bij Stoked Boardshop
Bij Stoked vind je talloze soorten wax. Onze grote collectie bestaat uit verschillende merken zoals Santa Cruz, Grizzly, Stoked en vele andere. Kies uit verschillende vormen, groottes en kleuren.
Kies de vorm en de kleur die jij het liefste ziet, alle wax is namelijk van topkwaliteit. Welke blok je ook kiest, je sessies zullen leuker, aangenamer en beter worden met wax van een echte skateshop.
Hoe breng je skatewax aan?
Wax breng je aan door je skateboard deck, trucks of het obstakel waar je op wilt skaten in te wrijven met wax. Afhankelijk van het toestel zal je veel of weinig wax moeten aanbrengen. Zowel op een rail als een ledge, pak je best alle kanten mee. Smeer de bovenkant in, maar ook de zijkant. Dit is belangrijk voor nose- en tailslides, maar ook voor smithgrinds kan dit handig. Je wielen komen namelijk tegen die zijkant en als er geen wax op zit, blijf je alsnog hangen.
Afhankelijk waar en met wie je skate, wrijf je dus je skateboard deck, je trucks of het obstakel in. Als je een rail of een ledge inwaxt, overdrijf dan niet. Er zijn ook andere skaters die niet zo graag een dikke laag wax hebben.
Stoked Customer Service
Heb je nog vragen of zit je met enkele problemen? Aarzel dan niet om ons te contacteren via de Chat Support, mail of bel ons, of spring eens binnen in onze shop. We helpen je met alle plezier!