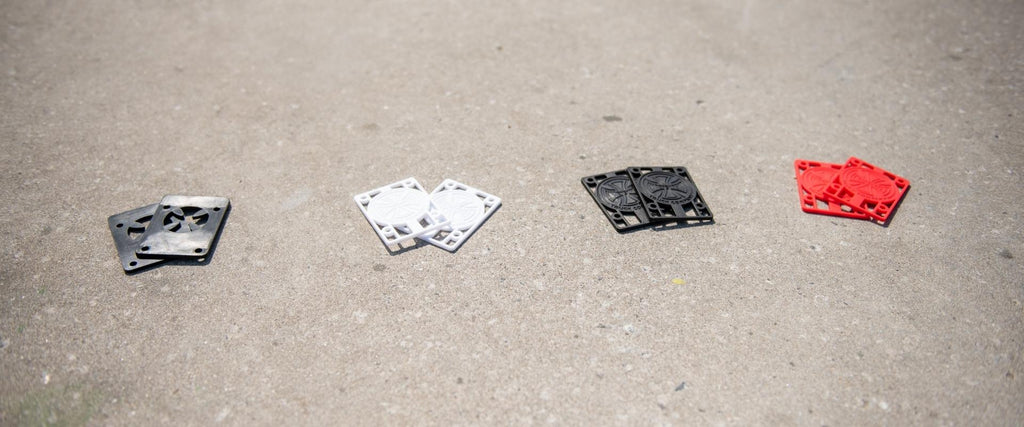 At the bottom of this page you can find more info about skateboards
Wat zijn shockpads en riserpads?
Shockpads en risers zijn rubberen plaatjes die je tussen je board en de trucks monteert. Ze worden gemaakt van polyurethaan, een soort plastic dat in verschillende hardheden gemaakt wordt. Beide zorgen voor meer afstand tussen je wielen en je deck.
Ze zijn optioneel en dus niet noodzakelijk om te kunnen skateboarden. Het gebruik ervan is dan ook een persoonlijke keuze.
Wat is het verschil tussen shockpads en risers?
Beide lijken enorm op elkaar, toch hebben ze een ander doel. Het grote verschil tussen shockpads en risers is vooral de hardheid van het materiaal.
Shockpads zijn zachter waardoor ze beter schokken opvangen. Zowel tijdens het rijden op ruw terrein als bij het landen van hoge gaps of trappen gaan. De meeste shockpads hebben een dikte van 1/8".
Risers worden gemaakt van een harder urethaan en zorgen voor een grotere speling tussen je wielen en het board. De dikte bij risers kan verschillen tussen 1/10" en 1/4". Wanneer je dus graag met grotere wielen skate en wheelbites wil vermijden, kies dan voor risers van de gewenste dikte. Stem deze ook af op de grootte van je wielen.
Waarvoor dienen shockpads of riser pads?
Beiden laten toe om met grotere wielen te rijden. Ook wanneer je low trucks hebt. Het voordeel van grotere wielen is dat ze langer de snelheid behouden en langer meegaan. Er is nu eenmaal meer urethaan om te slijten.
De extra ruimte zorgt er ook voor dat je iets scherpere bochten kan nemen. Wanneer je stuurt komt je deck dichter bij de wielen. Bij te scherpe bochten kan het gebeuren dat je board tegen je wielen komt – beter gekend als wheelbite. Dit reageert als een rem en gooit je zo tegen de grond. Risers en shockpads kunnen dit verhelpen.
Omdat je board wat hoger van de grond staat, kan je ook iets hoger springen. De tail heeft meer momentum en kan zo de voorkant van je board hoger brengen.
Daarnaast hebben ze ook een effect op de schokabsorptie tijdens het rijden en het landen. Een ruwe ondergrond is vaak lastiger om te skaten. Vooral shockpads zorgen ervoor dat deze schokken en vibraties sneller gedempt worden voordat ze je board en je voeten bereiken. Hierdoor krijg je een aangenamer rijgevoel en worden jouw board en lichaam minder belast.
Zorg voor de juiste skate hardware
Afhankelijk van de dikte van deze risers, kies je de bijpassende vijsjes. Zo bestaat er hardware van7/8", 1", 1 1/8", 1 1/4" en 1 1/2''. Je hardware moet overeenkomen met de dikte van je pads. Om te weten welke vijzen je nodig hebt, hebben we een handige maattabel opgesteld.
| | |
| --- | --- |
| Skateboard Setup | Lengte Hardware |
| Geen shockpads/risers | 7/8" - 1" vijsjes |
| 1/8" Shockpads | 1 - 1/8" vijsjes  |
| 1/4" Risers | 1 1/4" vijsjes |
| 1/2" Risers | 1 1/2" vijsjes |

Stoked Customer Service

Naast gericht advies en kwalitatief materiaal aan een voordelige prijs krijg je van ons ook altijd een topservice. Wij monteren volledig gratis de verschillende onderdelen die je bij Stoked Boardshop koopt. Indien je nog vragen hebt, mag je ons altijd contacteren via de chat support, mail of bel ons of kom eens langs in de shop. We helpen je met alle plezier verder!